Fantasy Football World Cup on FantasyBet Quarterfinals
The quarter-finals of the 2018 World Cup are on their way, bringing with them many exciting opportunities for daily fantasy football managers to demonstrate their football knowledge and earn cash. In this short overview, we'll briefly present who we think are the most useful players on FantasyBet so that you can participate in the tournaments as easily and successfully as possible.
Our Dream Team
Setting up the perfect team in five easy steps? This is how it works on FantasyBet. Make the most of your free starting credit!
Our tips for FantasyBet
Trippier, this defender takes a lot of set pieces, has a lot of offensive power and combines the potential to participate in scoring to his very good chance of keeping a clean sheet.
Stones, Trippier's defensive colleague is particularly dangerous with set pieces and really knows how to jump.
Kane, probably doesn't need any introduction, but if you've never heard of him, he's the English superstar who leads the scoring odds, is almost guaranteed to shoot penalties and is generally the go to guy for his team
Neymar, is also the player who often makes the difference for his team, unfortunately that's also true when it comes to theatricals. From a daily fantasy football point of view 90% of the time Neymar is an absolute MUST!
Willian, showed his strength in the round of 16 and on FantasyBet his price is very cheap.
Modric, is also a real budget bargain and his price could make it easier to put together the rest of your team.
Golovin, is the player Russia will be counting on and who pulls the strings for his team. If you want to bet on Russia, he is your main man and you should also look at his team mate Dzyuba!
World Cup Quarter Finals – The odds and statistics
All fantasy tournaments for the quarterfinals
On FantasyBet, the prices for all players were fixed before the tournament and are not adjusted according to their performance in each match. The result of this is that English players are "too cheap" and the Belgians "too expensive".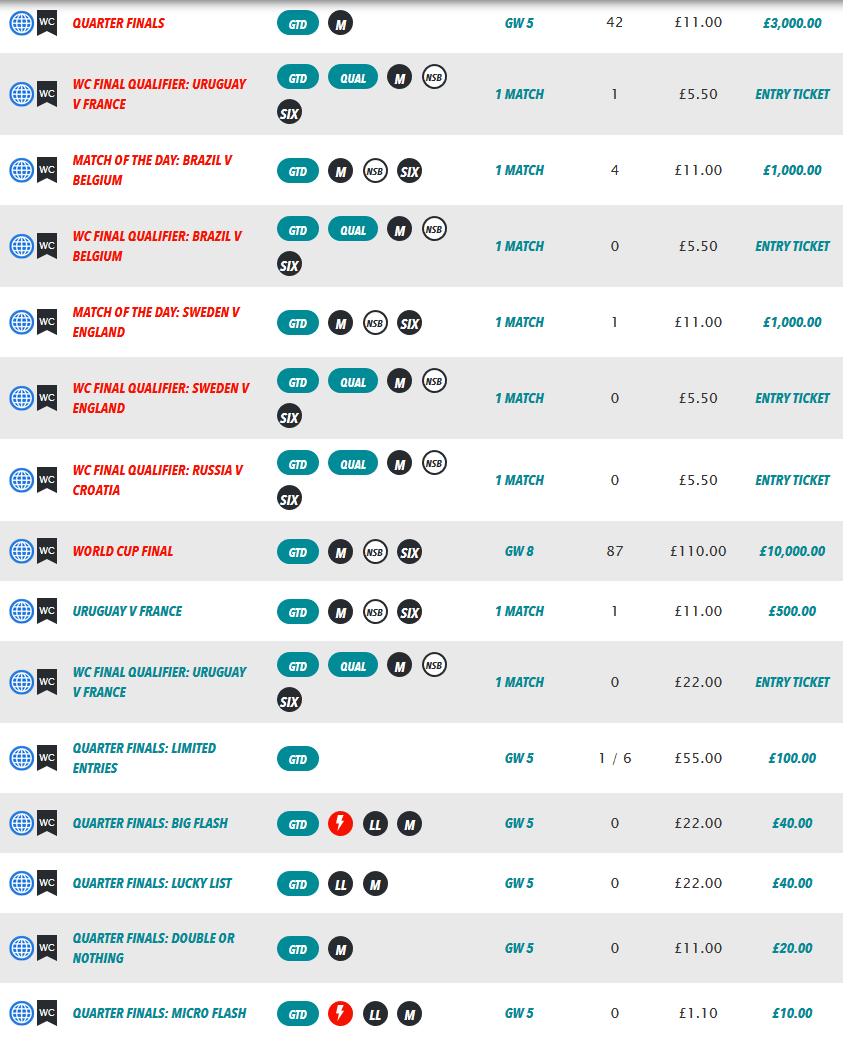 Participate in the tournaments for free
If you do not yet have an account on FantasyBet, you can join this tournament for free. All you have to do is: open a new account and you will receive an immediate £4.40 bonus and a free ticket for the next big fantasy tournament of the World Cup.
You'll find the details of the bonus here, and there's an in-depth Review of FantasyBet which gives you all the important information about their daily fantasy football offering at a glance.
You'll find the latest updates and tips for the fantasy tournaments on this match day In the Community Forum, and the 11Heroes Twitter Channel.
We look forward to your comments!