Fantasy Football World Cup on FanTeam Quarterfinals
As always. FanTeam gives you the choice between a regular tournament and a double or nothing one! As always, there are also different buy ins available!
The big tournaments

Daily Fantasy Football on Fanteam Made Easy
Main Event
The highlight is, of course, the Friday Main Event with a 10k GTD prize pool.
Start: 6. July, 17:00
€11 Buy In
€10.000 guaranteed prize pool
The 11Heroes DreamTeam for the FanTeam Main Event
FanTeam updated its prices from match to match, and since FanTeam adds a point for a win (and deducts one for a loss), favourites are more expensive than underdogs. For the WC quarterfinals, FanTeam is allowing players to set up 4 players from any given team, and we make the most of this for our dream team.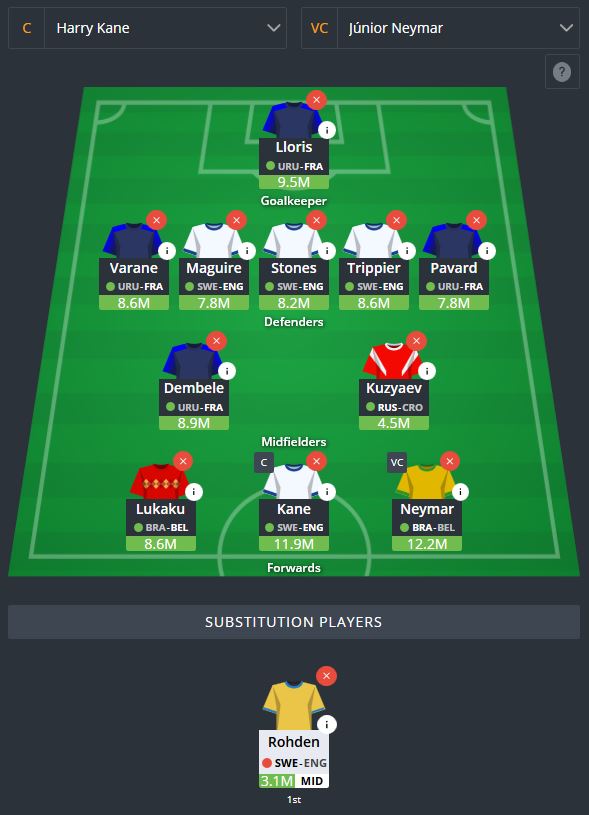 England's defenders offer fantastic value for money. The entire English defensive line also poses a danger to goal, perhaps with the exception of Kyle Walker. Centre-backs Stones and Maguire are very strong on set pieces and they are in front of full-backs Trippier and Young. This is a dream formation. Goalgetter Kane is set in the front.
The other players in the various teams are more of an open question and less easy to choose. France has Pogba, Griezmann and Mbappe, who are superstars who can decide the outcome of a game on their own, but their defence has been a bit lacking lately. Dembele is a real bargain as we expect him to replace the injured Matuidi.
Uruguay, of course, has Cavani and Suarez, although Cavani's place is more than questionable due to an injury, this fact could also make France's defence more interesting to daily fantasy football managers.
Croatia also has a good chance of keeping a clean sheet and is the most obvious alternative to France if you want to bet on a favourite.
Brazil are favourites against insider tip Belgium, but this is the quarter final match where the bookmakers expect the most goals, so using defenders from either of these teams may not be a good idea.
Neymar and Coutinho are the two Brazilian players you should definitely have on your list for your attack squad. But some of the players from opponents Belgium are always good for a goal and very cheap, players like Kevin De Bruyne, Eden Hazard and Romelu Lukaku.
From a budget point of view, Suarez from Uruguay and Golovin and Dzyuba from Russia are real bargains, if you believe that an alleged underdog will at least score.
Game rules
This tournament lasts only one match day (quarter-finals)
A fantasy team cannot have more than 4 players from the same team
You must choose a Captain for your fantasy team, and that player gets double points
There is only one substitute allowed
The budget is 100 million
Users are allowed to set up more than one team for this tournament
Normal prize distribution: The distribution will be in a 1 to 15 ratio
If two teams have the same score, the team with the lowest budget will win
The "Man of the Match" receives two bonus points
What else is on offer?
This smaller version of the Main Event has a buy in of just €3.30 and so is very interesting for fantasy managers with a slightly smaller bankroll, as it offers a hefty €2000 GTDprize money!

The Quarterfinal Matches
An overview of all matches in the quarterfinals:


You will find the most interesting matches for your daily fantasy football line-up and tips on which players you should use for your line-ups, in our Preview! As always, we have summarized all the odds and statistics there for you.
In addition to the big tournaments, FanTeam will probably also offer smaller tournaments for the individual matches! At time of going to press it was not clear what would be offered. We'll keep you up to date!
You'll find the latest updates and tips for the fantasy tournaments on this match day in the Community Fanteam Forum and the 11Heroes Twitter Channel.
We look forward to your comments!