FantasyBet – The Fantasy Football Specialist in Review
We want to share our experiences with one of the most exciting fantasy football providers in this FantasyBet Review in order to give you a complete picture of what FantasyBet has to offer all daily fantasy football managers. We assessed the following criteria:
Range of daily fantasy football leagues & amp; tournaments
Bonuses and promotions
Points and rating system
Deposit options
Functionality and usability of the software
Mobile: how does the software work on phones?
App: Is there an app?
Tutorials: What tutorials are there for newcomers?
Service
FantasyBet gets off to a convincing start thanks to the fact that it has an absolutely coherent concept –the highest security standards, a great welcome bonus, an extensive tournament portfolio and a lively community. You could not ask for more from a fantasy football provider.
Range of Games and Tournaments
FantasyBet is completely focused on fantasy sports and, in particular, daily fantasy football . The fantasy football tournaments come in " Daily " and " Full Season " variants and the vendor's focus is clearly on the fast-moving and action-packed Daily Fantasy Football Tournaments.
In the daily version, the tournaments generally cover the games in a single match day or even a selection of individual games within them. So, when you choose to play daily fantasy football, you know you don't have to stick around for a whole season, you can look at each game day and decide if you want to put your teams into tournaments and fight for the prize money.
Daily Fantasy Football Leagues
FantasyBet has all the major European football leagues in its range, as well as the Champions League and the World Cup. Those who like something a little out of the ordinary can even test their knowledge of the Norwegian Eliteserien. These Daily Fantasy Football Leagues are all in the current FantasyBet range:
English Premier League
English Championship
Spanish La Liga
Champions League
Norwegian Eliteserien
World Cup
Fantasy Football Tournaments
There are a lot of tournaments to choose from on FantasyBet. On every match day you have several tournaments with different buy ins and guaranteed prize pools. So there is always something for every budget.
Once a month, FantasyBet goes one better and triples the prize pool and buy-in in the main event: the Grand Weekend tournament with a £1000 guaranteed prize then becomes the " Triple Grand " where you play for your share of £3,000 and a first prize of around £800.
The "Flash" tournaments on FantasyBet are a revolutionary and action-packed tournament system. In this format, you have only 3 minutes to turn a given selection of players into a powerful team.
The offered tournament forms at a glance:
All Games : this is the place where to find all the tournaments
Flash Mode : The Daily Fantasy Football Blitz, where you have just 3 minutes to create your line-up
No Captain : Tournaments without a captain
Non Standard Budget : Tournaments where the budget is different to the standard 100 million
Multi Entry : you can enter more than once
Guaranteed Pay-out : The tournament has a guaranteed prize pool
If you don't want to risk your own money, you can also take part in the weekly freerolls and win real money without any risk. Also check out a the most important tournaments.
Bonus and Promotions
FantasyBet offers an attractive welcome bonus for all new fantasy managers. Please see our Bonus Review for details on the free seed money you receive exclusively through 11Heroes, Simply sign up via the following link to benefit from one of the best welcome bonuses for fantasy football managers in the UK market.
[templatera id="20489″]
The scoring system
One of the most important criteria in the selection of a fantasy football provider is the scoring and rating system in the tournaments. FantasyBet has a sophisticated scoring system which provides exciting strategic options for the Daily Fantasy Football Manager. There are 2 categories:
The Scoring System on FantasyBet rewards the good actions (such as goals, preparations, clean sheets or assists) of the players you set up with points and penalizes negative actions (like conceding a penalty or a yellow card) by deducting points.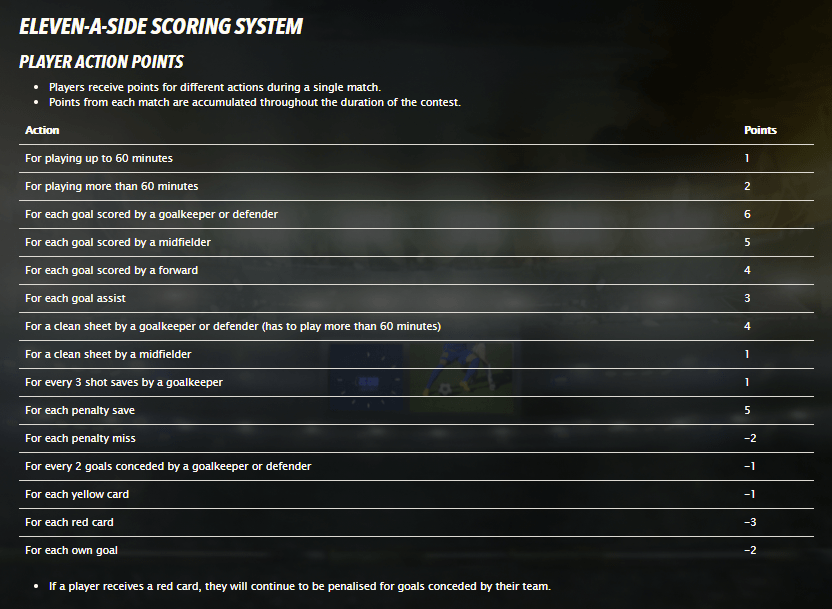 In addition, bonus points are awarded to the three "men of the match" in each match. The complete rules can be found here:

Making a deposit on FantasyBet
When you are ready to load your account, FantasyBet offers a range of options for you to do so. Our partner also often has special promotions on offer to sweeten you a deposit – for example, they may give you free tournament tickets. It is always worthwhile to look for a bonus.
With the FantasyBet Bonus, you can try out the site, play your first tournaments for free and enjoy the great starter bonus. Also try the freerolls, which regularly attract a high number of participants. The deposit methods are
Credit Card (MasterCard/Visa)
Skrill
Neteller
Paysafecard
Sofort banking
Giro pay
Safety Pay
Software and User Interface
The FantasyBet user interface is very intuitive. The lobby is attractive, clearly laid-out and has lots of filter options to make it easy to find what you want. There are very few bugs in the software and you have the filters in the lobby for individual leagues, game modes, buy ins and duration of tournaments offered.
Your personal profile is also clearly laid out and the support leaves nothing to be desired. Requests are processed competently and promptly: in other words, it's a good overall package.
Play Tournaments
It's time to get started, so let's go step by step through tournament registration on FantasyBet. In the tournament overview , also known as the lobby, you will find the current tournaments listed.
Step 1 . Filter the tournaments on offer

If you are looking for a specific league or tournament, the following filters are available:
Competition This is the place to filter by league, for example the World Cup
Game Rules: This is the place to filter by game mode

Buy-in: This is the place to look for your preferred buy-in range

Duration: This is the place to look for daily or seasonal fantasy football tournaments
Step 2. Make your selection from the available tournaments
In this example, we have opted for the "insert coin", with a buy-in of only £1.10 and a guaranteed prize pool of £50.

Step 3. Tournament Details
You can now take a look at all the details of the tournament. Which games are considered (Fixtures), Who are your opponents (Entries)? What are the rules of the competition (Rules)? By clicking on "Enter Now" you confirm your participation in the tournament and the buy-in will be deducted from your balance.

Step 4. Set up the team
Now you can nominate your Dream Team (within your budget) and your formation. I wish you the best of luck!

There are numerous filters for selecting your players
FantasyBet supports fantasy football managers with numerous filter options and specific information about the players. In the right "Players" bar you have numerous options to search for the best candidates for your team.
You can filter the players by position, team and price or search directly by name.
Club Filter : Show only players from a specific team
Position : Show only one specific position (e.g. goalkeepers
Price Filter : Use the handy bar to set the target price
Points: Under Pts, you can find the total points the player has scored in the fantasy football tournaments this season.
FantasyBet filters explained
If a player is injured or ill, Fantasybet highlights this by placing a red, or orange "i" behind the player's name.
Under "Total Points" you also have the opportunity to sort players by goals scored, points per game, form, assists and clean sheets. If your budget is tight, you can use price to narrow down the price range for your players.
Above the line-up, you'll see your remaining budget (bank) and the line-up requirements. Your team must contain: 2 goalkeepers, 5 defenders, 5 midfielders and 3 strikers. However, four of these players (and one of the two goalkeepers) have to sit on the bench.
The Substitute Bank is a very interesting feature on FantasyBet and allows the resourceful fantasy manager to create riskier setups, as potentially injured players are replaced by the substitute and are not a total failure for your team. A well-calculated risk can be very worthwhile!
If you have already set up a team in another tournament, you can transfer them using the " Import Team " function. You can also choose your captain and vice captain here. The captain's points are doubled. If he does not play, the vice captain takes the arm band.
Once you have decided on a formation and created a team, all you have to do is add the missing players on the substitutes' bench (here: 1 goalkeeper, 2 defenders and one midfielder).
Image: FantasyBet
Once the substitutes' bench is filled and the captains are selected, you're good to go and and you can send your team onto the pitch by clicking the "Submit Team Button". If you want to change something later on, you can do so right up to the last second before the kick-off of the first match.
Mobile and tablet compatibility
Of course, you can also use the Fantasybet from your mobile phone or tablet. It is fully responsive and provides you with all the important functions. It's particularly handy to be able to follow the action on the live ticker and keep track of how your team is doing when you're out and about.
However, it's more fun to draft your team on a full-sized computer monitor or on a larger tablet screen. There is currently no dedicated App .
Conclusion
We hope that our FantasyBet Review has told you everything you need to know about this fantasy football provider and answered all your questions. If you have any further questions or feedback, we look forward to your comments.
The 11heroes team wishes you the best of luck with your career as a fantasy football manager.
[templatera id="16323″]
Useful Links