In FantasyBet Six-a-Side, an absence of structure and/or organization will undo your team's chances of success right from the start. Therefore, it is absolutely essential to think about Six a Side rules along with the tactics and strategic formation you want to use in your fantasy team. A rock-solid tactic can turn outsiders into a competitive team that other managers will fear!
FantasyBet Six a Side – The Rules
The biggest difference between Six a Side and regular fantasy football is that instead of playing a complete team of 11 players and 3 substitutes, your line up only has 6 players and one substitute.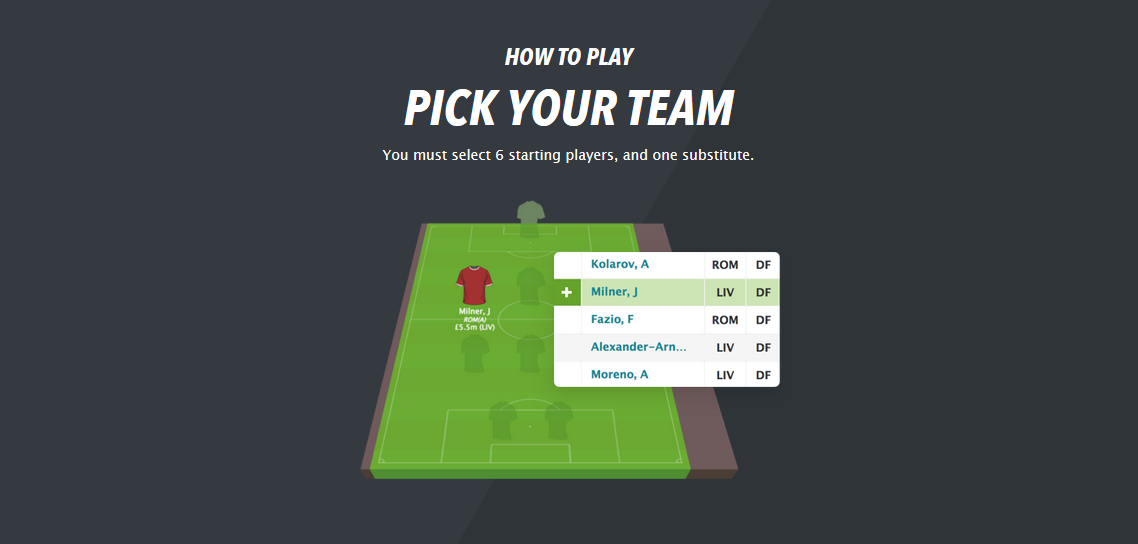 The budget is therefore smaller and usually capped at 50 million. There is no cap on how many players you can use from each team. You could build your line-up using players from only one team!
However, there is an important limitation: you must have a recognizable team, with players from all parts of the pitch. In other words, you need 1 goalkeeper, 2-3 defenders, 2-3 midfielders and 1-2 strikers. This leads to the following tactical formations.
Six a Side – recipe for success for the tactical formation
Which of the following formations is best for your team depends on many factors: the opponent; the nominated player types and many other factors. No matter which formation you set up, your team must follow two very simple principles:
Harmonious Attack : Ideally, you want to nominate forwards and midfielders who work well together, prepare goals for each other and get involved with lots of passing. These attack blocks can help you earn double points from a goal: you'll get one lot of points from the goal itself and another lot of points for the assist or the key pass.
Choosing the Right Defenders : This might sound a bit obvious, but time and again you see fantasy managers making the newbie mistake of setting up strikers from one team and defenders from their direct opponent. For more on the basic principles of setting up a team, check out the 10 tips for newcomers to daily fantasy football. Avoid these beginner mistakes and set up defenders who work with the rest of your team.
In Six a Side you can set up your team in these tactical formations:
3-1-1 : This very defensive formation makes sense on match days where there aren't expected to be a lot of goals or if you have aggressive defenders with good chances of keeping a clean sheet.
1-3-1 : A very dynamic formation, usually with very dangerous midfielders who also play key passes to the only striker.
2-2-1 : The 2-2-1 formation is a good starting point for Six a Side. It's basically the more familiar 4-4-2 formation split in half, and offers a similar balance.
2-1-2 : A very special line-up, where the use of two strikers can make it very difficult to achieve team harmony. On suitable match days, this can be a very strong approach and is especially suitable when there is an in-form striker who also has a good chance of providing the key pass.
1-2-2 : This is the formation for when there is very little chance of anyone keeping a clean sheet and a good chance of runaway victories or, in other words, matches with more than 2.5 goals. This line-up is full-on attack.
Are you ready for Daily Fantasy Football? Create your free account on FantasyBet and get an exclusive bonus.
Learn more
After this brief overview of the tactical formations, we now come to some truly vital information for fantasy football managers – details of how, exactly, points are awarded in the tournament. You absolutely must know this to be able to select the ideal players for the tournament format and set up profitable teams.
FantasyBet Six a Side – Scoring
Six a Side uses the standard point system at FantasyBet with a few exceptions, which are listed here. You can find a detailed overview of the classic scoring system at FantasyBet Review: Facts about bonus, software and tournaments.
Did you know?

You can play 6-a-side fantasy on every match in the #WorldCup Pretty cool, huh? Try it out for today's match between #ENG and #BEL here ➡️ https://t.co/7XgP6oHTDS …

Compete for £2,000 in cash prizes! pic.twitter.com/3C83fprGzV

— FantasyBet (@fantasy_bet) June 28, 2018
FantasyBet Six a Side – Defensive Scoring
When compared to the classic scoring system, in Six a Side the defenders are better rewarded for good defensive actions.
Every two successful one-on-ones earns one point
Every two successful headers earns one point
Every defensive action as the last man earns three points
Every defensive action on the line earns three points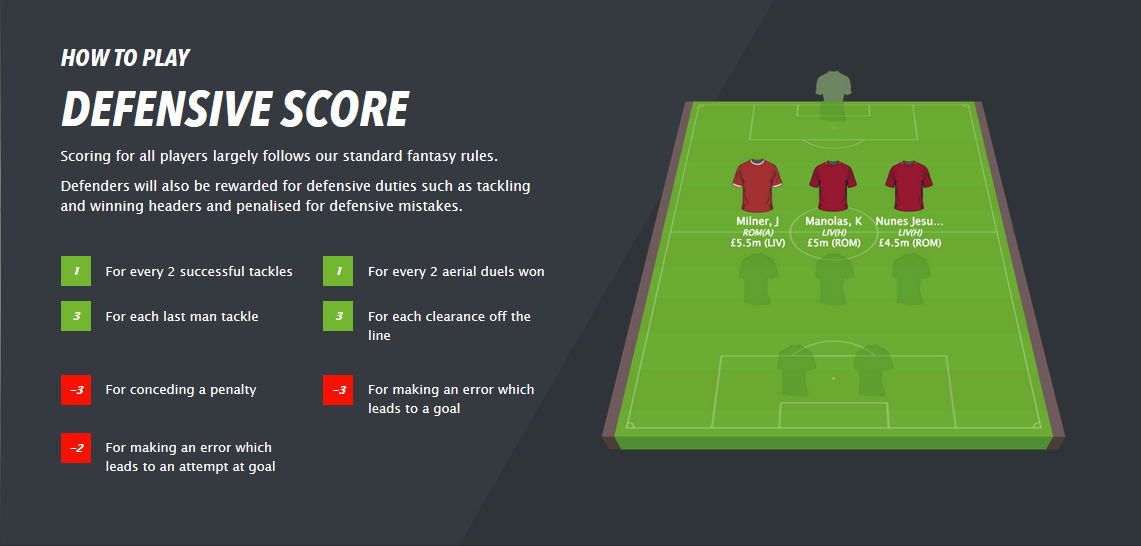 However, there are also deductions for defensive errors:
Conceding a penalty costs your defender 3 points
A defensive error which leads to a goal also costs 3 points
A defensive error which leads to a shot on goal costs 2 points
It can be worthwhile to nominate defenders who will see a lot of action and will often win duels. The clean sheet bonus, which is so important in standard fantasy football, takes a bit of a back seat in Six a Side, as your defenders have more opportunities to score good points. So it can make sense to fill your line ups with strong defenders who will have plenty to do, even if their clean sheet odds are not that high.
FantasyBet Six a Side – Offensive Scoring
The standard scoring rules also apply to offensive scoring with the following exceptions.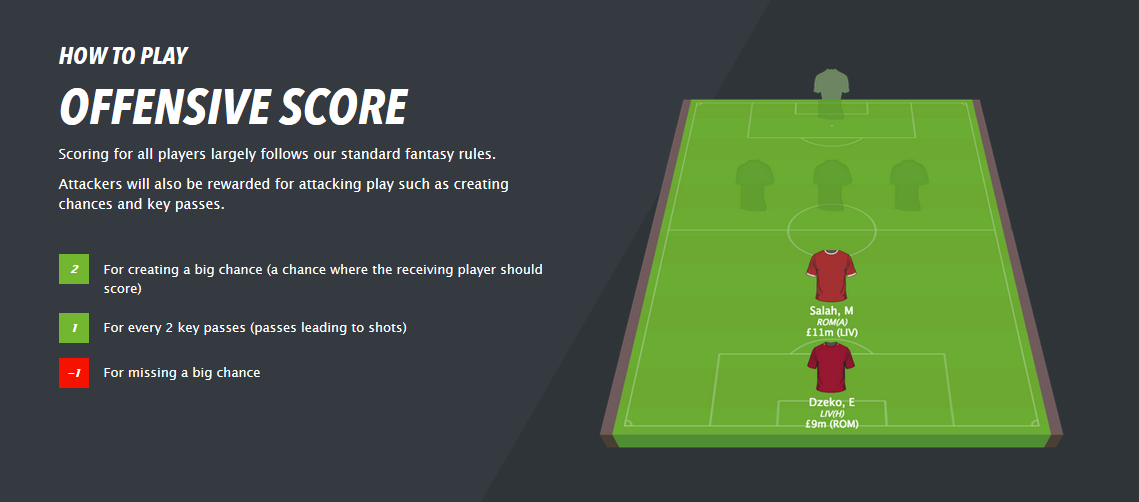 Image: FantasyBet
Preparing a great scoring opportunity earns 2 extra points
Two key passes each leading to a shot on goal earns 1 point
And yes, there's also a punishment for ruining a great chance, this costs 1 point
Here is the complete Six a Side scoring at a glance: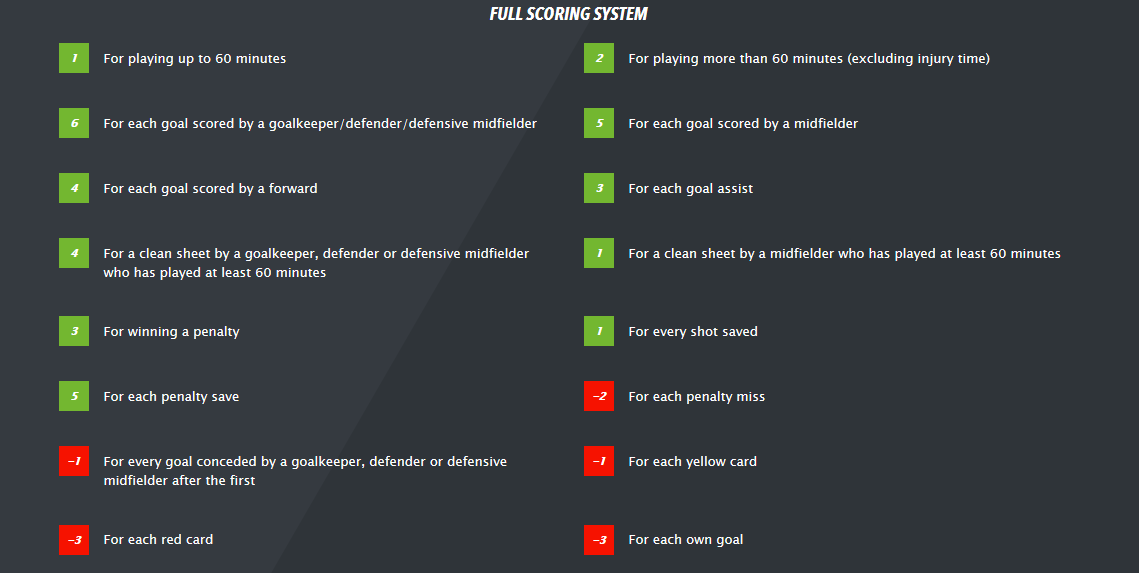 Share your strategy with the community
As you've seen, there's a lot to think about when it comes to tactics and formations for Six a Side. What looks like a simple game can be very complex when you come to think about it. Which formation works for your team? Which formation is the hardest to play? What additional tips and tactics help with Six a Side?
Join us in the Community , the 11Heroes Twitter Channel and our Discord Fantasy Football Community. We look forward to reading your comments!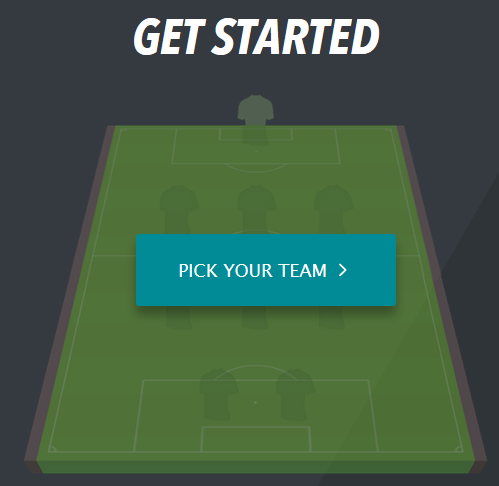 Your 11Heroes team wishes you all the best with the Six a Side tournaments on FantasyBet.
More content on fantasy tournaments on FantasyBet