Set-piece takers Bundesliga – Penalties, Free Kicks, Corners
This overview shows you the expected set-piece takers for each team in the Bundesliga 2019/20. They are based on last season's experience, online stats currently available, pre-season friendlies and in the case of newcomers to a team, what role they played at their previous club.
The list will be updated as new league trends become apparent. If you think that any of the information listed is not correct, then please leave a comment or contact us @11_Heroes on Twitter.
Set-piece takers Bundesliga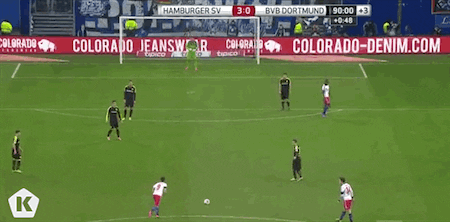 Bayern München
Corners: Kimmich, Thiago, Alaba
Free kicks: Alaba, Lewandowski
Penalties: Lewandowski
Borussia Dortmund
Corners: Sancho, Hazard, Guerreiro, Brandt
Free kicks: Alcácer,  Reus, Hazard, Guerreiro
Penalties: Reus, Alcácer, Hazard
Schalke 04
Corners: Caligiuri, Oczipka, Harit
Free kicks: Caligiuri, Nastasic
Penalties: Caligiuri
RB Leipzig
Corners: Halstenberg, Forsberg, Kampl, Demme, Nkunku
Free kicks: Forsberg, Halstenberg, Sabitzer
Penalties: Halstenberg, Forsberg, Werner
Bayer Leverkusen
Corners: Demirbay, Bailey, Aranguiz
Free kicks: Bailey, Aránguiz, Demirbay
Penalties: Havertz
TSG Hoffenheim
Corners: Grifo, Kramaric, Geiger
Free kicks: Kramaric, Grifo, Skov
Penalties: Kramaric, Grifo
Borussia Mönchengladbach
Corners: Hofmann, Wendt, Plea, Neuhaus, Raffael
Free kicks: Hofmann, Stindl, Wendt, Neuhaus, Thuram, Raffael
Penalties: Hofmann, Stindl, Plea, Raffael
Hertha BSC
Corners: Plattenhart, Duda
Free kicks: Plattenhart, Duda
Penalties: Ibisevic, Kalou
Eintracht Frankfurt
Corners: Kostic, Kamada, de Guzmán, Rode, Gacinovic
Free kicks: Kostic, de Guzmán, Rebic
Penalties: Paciencia, Kostic, Rebic
Werder Bremen
Corners: Sahin, Augustinsson, Rashica, Klaassen
Free kicks: Sahin, Rashica
Penalties: Klaassen, Rashica
FC Augsburg
Corners: Max, Richter, Vargas, Gruezo
Free kicks: Gregoritsch, Max
Penalties: Finnbogason, Gregoritsch
SC Freiburg
Corners: Günter, Schmid, Gondorf
Free kicks: Günter, Schmid, Waldschmidt, Gondorf
Penalties: Petersen, Waldschmidt
VFL Wolfsburg
Corners: Arnold, Mehmedi, Brekalo, Malli
Free kicks: Arnold, William
Penalties: Weghorst
SC Paderborn
Corners: Antwi-Adjei, Oliveira Souza
Free kicks: Hünemeier
Penalties: Hünemeier
1. FC Union Berlin
EcCornersken: Trimmel, Kroos
Free kicks: Prömel, Kroos
Penalties: Andersson
Mainz 05
Corners: Aarón, Brosinski, Kunde, Maxim
Free kicks: Brosinski, Aarón, Latza, Maxim
Penalties: Brosinski, Mateta
For the last two teams, we are not sure yet who the set-piece takers will be. Please leave a comments if you know more than we do!
Fortuna Düsseldorf
Corners: Stöger, Baker, Gießelmann, Suttner, Zimmer
Free kicks: Ayhan, Stöger, Thommy, Suttner
Penalties: Hennings
1. FC Köln
Corners: Kainz, Schaub, Hector, Risse, Clemens
Free kicks: Schaub, Kainz, Verstraete, Risse
Penalties: Terodde, Modeste, Verstraete
Fantasy tips for your set-piece takers in the Bundesliga
Set-piece takers are of great importance in both daily fantasy and seasonal fantasy: Daily vs Seasonal Fantasy Football Explained.
Free kicks and even more so penalties can often lead to a direct goal
Assists are almost as valuable.
It's not just important to look for players who are responsible for their team's set pieces, it is also worth taking a look at the statistics to find out which teams score goals from set-piece situations!
When faced with a difficult decision between two players, remember that set-piece takers always have the potential to bring extra points to your team.
Defenders who take set pieces are particularly valuable, as they often get more points for goals and if they pick up the clean-sheet bonus as well, they can earn gigantic scores (the defensive captain!)
For teams with strong set-piece takers, it's also worth taking a look at defensive players who are known to be good in the air, these are also very valuable!
The top 5 online fantasy football manager games for the Bundesliga
Injured list Bundesliga – injuries and suspensions