How to find Serie A Odds for Daily Fantasy Football
Go to the Fanteam website and click on Sportsbook. You do not even have to login to use the odds.
Choose the Filter for Serie A
You get the overview of all the Odds for the different Daily Fantasy Contests. Simply click on the Serie A filter to get only the Odds for Serie A.
Match Odds and Over/under 2.5 goal odds
In this basic overview you have the
match odds (1-x-2) and the
over 2.5 /under 2.5 goal odds, which give you an indication of how many goals are likely to be scored.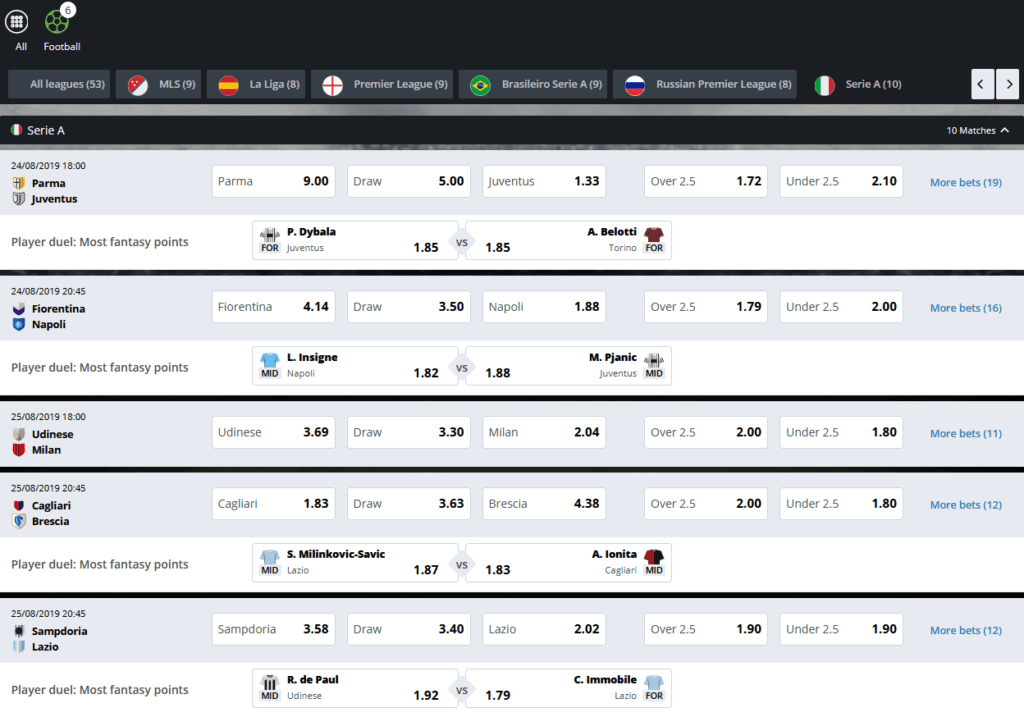 In addition you always have the Player Duel for the most fantasy points in this game week. These 2 players scored the most fantasy points in the last gameweek(s) and already shows you a good tip for your line-ups.
But that are not all the odds you can get. If you click on More bets, you will receive even more stats and odds.
More bets give you all available Odds
Apart from the match odds and the over/under goal odds you have the clean sheet odds (and win) as well (Team to win against 0).
Over/under Fantasy Point Odds for Daily Fantasy Football
Very useful for daily fantasy football managers are the over/under fantasy points odds, which display the likely hood of the team's top players to score more/less than fantasy points on Fanteam on this particular match day.
I hope this post helped you on how to find Serie A Odds for Daily Fantasy Football. Please leave your comments and suggestions below to improve this article.
Find here the link again to Fanteam, if you want to check out this new feature.
Enjoy Fantasy Football!
Useful Links
Serie A Fixtures & Results (Official Webpage)
Serie A Team Statistics (Official Webpage)