Set pieces are important point suppliers in all fantasy tournaments. Every Bundesliga manager should know the set-piece takers for the Bundesliga 2020/21.
Do you know all Set-piece takers Bundesliga? It is fairly easy to get the Bayern Munich set piece takers right and who takes free kicks in Dortmund or Bayer Leverkusen. But what about the smaller teams?
Penalties, Free Kicks, Corners
This overview shows you the expected set-piece takers for each team in the Bundesliga 2021/22.
Bundesliga penalty takers
Free kick takers
Corner takers
They are based on last season's experience, online stats currently available, pre-season friendlies and in the case of newcomers to a team, what role they played at their previous club.
The list will be updated as new league trends become apparent. Last update 18/09/2020
If you think that any of the information listed is not correct, then please leave a comment or contact us in the community or on @11_Heroes on Twitter.
Check out as well the Set-piece takers 2.Bundesliga – Penalties, Free Kicks, Corners
Fantasy tips for your set-piece takers
Set-piece takers are of great importance in both daily fantasy and seasonal fantasy: Daily vs Seasonal Fantasy Football Explained.
Free kicks and even more so penalties can often lead to a direct goal
Assists are almost as valuable.
It's not just important to look for players responsible for their team's set pieces. It is also worth taking a look at the statistics to find out which teams score goals from set-piece situations!
When faced with a difficult decision between two players, remember that set-piece takers always have the potential to bring extra points to your team.
Defenders who take set pieces are particularly valuable, as they often get more points for goals and if they pick up the clean-sheet bonus as well, they can earn gigantic scores (the defensive captain!)
For teams with strong set-piece takers, it's also worth taking a look at defensive players who are known to be good in the air. These are also very valuable!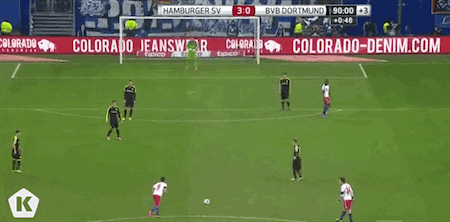 Set-piece takers Bundesliga
The top 5 online fantasy football manager games for the Bundesliga
Go to the Daily Fantasy Manager Cockpit
Penalties
Freekicks
Corners
This was the post Set-piece takers Bundesliga – Penalties, Free Kicks, Corners. Please leave your feedback in the community and keep your suggestions coming.
All Set-piece takers of the major football leagues.